Vermont's New Economy Week
October 13-19, 2014
The New Economy movement taking hold across the country is all about creating a people-driven approach to achieving prosperous communities, successful businesses, and healthy environments. Through diverse initiatives such as local investment structures, community food and energy networks, and alternative indicators of wellbeing, the New Economy is empowering us to generate a high quality of life at the local level.
This year, Vermont's second annual New Economy Week will highlight the creative approaches that are emerging across the state to build a more local, equitable, value-driven economy. Planned as part of the New Economy Coalition's national event, New Economy Week will be an opportunity to celebrate progress, learn about new opportunities, and envision solutions for what our economy and communities can be. We encourage all members of the Vermont community to take part!
Schedule of Events
The schedule for New Economy Week is still evolving, so check back regularly as more events and details are added! Click on the arrow next to each event to view more information.
Ongoing
Monday, October 13
Tuesday, October 14
Wednesday, October 15
Thursday, October 16
Friday, October 17
Follow Along Online!
Even if you can't make it to parts of New Economy Week, you can join the discussion online! We'll be tweeting throughout the week from our account @DanaMeadowsInst using the hashtag #NewEconomyWeek. Many of the events also have their own hashtags so you can enjoy live updates (see the event descriptions above).
Additionally, the New Economy Coalition will be hosting an online panel series to discuss key questions throughout the week. Learn more and get involved here.
Spread the Word!
Help us reach out to more people about New Economy Week by telling your family and friends! Post the schedule to Facebook, share it on Twitter, and invite your friends to join our event page for the October 15 ownership forum. You can even download this poster and a poster of the schedule to hang up in your community or share over email!
For example posts and more easy ways to help us get the word out, visit our Vermont's New Economy Week Promotion page.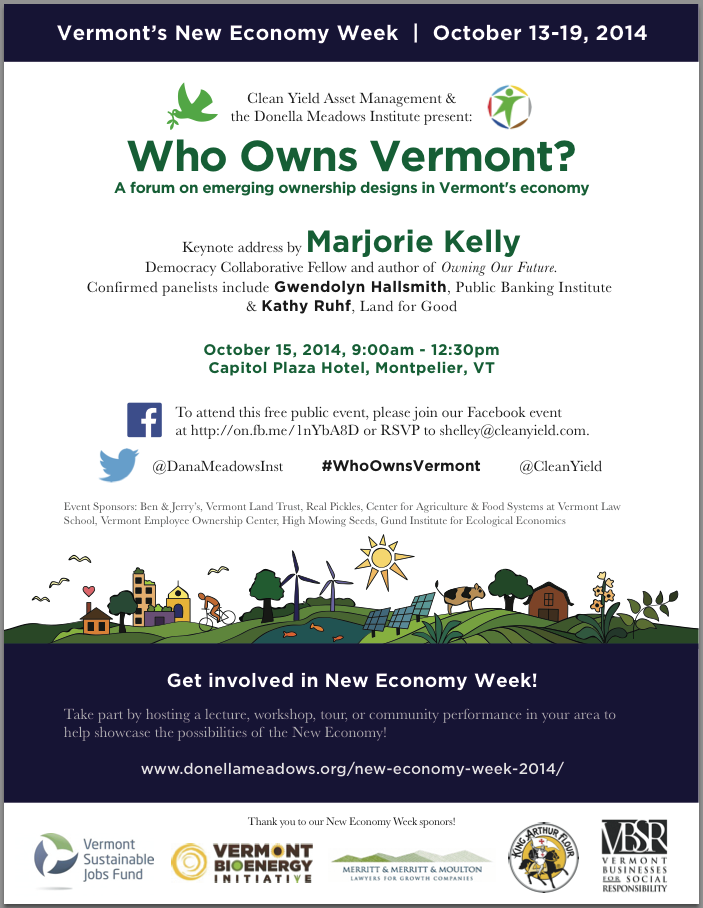 Get involved—host an event!
As an organizing hub for New Economy Week in Vermont, our institute is working with individuals and organizations throughout the state to coordinate information and advertise the week's events. But we need you to fill up the schedule—host a lecture, workshop, tour, or community performance to help us showcase the possibilities of the New Economy!
For a list of ideas for how to plan your own New Economy Week event, check out New Economy Coalition's Ideas for Action. Please email sarah@donellameadows.org to get your event added to the New Economy Week calendar.
Sponsors
We are grateful to our sponsors for their support of Vermont's New Economy Week 2014 and a more sustainable, equitable, value-driven economy. Please contact sarah@donellameadows.org if you or your organization would like to contribute to this community event.