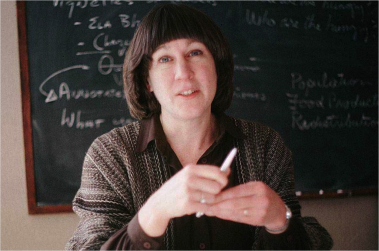 In her own words, Donella "Dana" Meadows was "an opinionated columnist, perpetual fundraiser, fanatic gardener, opera-lover, baker, farmer, teacher, and global gadfly." She was also a powerful communicator, a prolific writer, and one of the leading environmental minds of the 20th century. In addition to authoring three editions of her groundbreaking study The Limits to Growth, Dana wrote hundreds of articles, newspaper columns, books, speeches, and more.
One of our primary goals is to maintain Dana's invaluable legacy by providing a comprehensive, free, and easily accessible archive of her work online. This archive currently contains over 900 different pieces by Dana, and it continues to expand as we gather more of her work. Explore our archive and Dana's writing by visiting our collection here.
The second part of our Legacy program is keeping Dana's work alive and inspiring. We seek to develop resources that extend access to her ideas to an ever-larger audience and apply them to current issues. These resources include projects like our recent collaboration with the Dartmouth College Library that resulted in the digitization of Dana's entire 1972 Limits to Growth study, as well as educational tools, new publications, and multimedia resources.