Dana's Teaching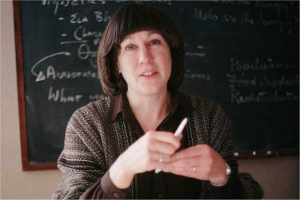 Donella Meadows taught at Dartmouth College for 29 years – from 1972 to 2001. Her courses ranged from "Education for Leadership" to "Environmental Ethics," but all featured outstanding reading lists and a unique approach to pedagogy.
Student reviews reflect her effectiveness as a professor:
"It re-opened thought processes that most of college has encouraged me to close. Trying to evaluate what is right rather than what is was great. It felt very applicable to my life in a way that few classes have."
"Your attitude toward teaching and learning and learning – ideal! How wonderful to be asked to really think about thinking for a change!"
"I really like Professor Meadows' style of teaching. She never lectured and she facilitated fascinating discussion. She posed questions that really made us think. She rarely gave her own opinions and beliefs away, allowing us to figure out for ourselves what was right and ethical."
"It made me learn about myself. In all my other classes at Dartmouth I have learned about other people, processes, places, etc. In this class I learned about myself."
"I liked that this class challenged me to look at those other sides, and critically. This class has really changed my outlook on the way I live my life and the way others live too."
"I used to avoid sticky questions, or at least write them off as unanswerable. Now I'm excited to tackle them."
Eager for inspiration? Access Dana's syllabi here:
The Limits to Growth Controversy (Fall 1976)
Images of the Future (Fall 1977)
Intentional and Unintentional Communities
Introduction to Policy Studies (Fall 1979)
Advanced Policy Studies (Spring 1981)
Education for Leadership (Fall 1986)
Environmental Journalism (Winter 1993)
Environmental Ethics (Fall 1996)
Syllabi, student reviews, and other teaching material available at Dartmouth's Rauner Special Collections Library.