Below you will find an ever-growing collection of resources that dive deeper into the issues our communities are tackling and the solutions that are making for healthier, stronger, and more resilient economies. Explore them to learn more about the many facets of a sustainable economy!
Video recordings of "Investments for the Sake of Climate and Community" half-day symposium
October 14, 2015 at the Vermont Law School, South Royalton
Read a synopsis  of the event in our October Newsletter!
Panelists: Gus Speth, Senior Fellow at Democracy Collaborative founder of the newly launched New Economy Law Center at VLS; Maeve McBride, coordinator of 350 Vermont; Janice St. Onge, president of the VSJF Flexible Capital Fund. Practical investment strategies by the White River Investment Club, the Vermont Community Loan Fund, the Vermont Food Investor Network and other leaders in the field.
Vermont's New Economy: A look at the New Economy by the numbers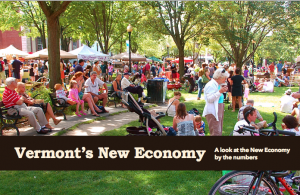 This publication focuses on the emergence of the New Economy here in Vermont, USA by exploring both numbers and stories from across the state. The numbers provide a snapshot of how Vermont is doing, while the accompanying stories illustrate some of the innovative approaches already working here. Through these numbers and stories, we hope to provide a "sense of the possible" in designing strong and sustainable economies. Learn more and read the full publication here.
Resources for Investing in the New Economy

Investing for the World We Want" by Marco Vangelisti
A truly compelling story and case for reorienting investments out of fossil-fuels by Marco Vangelisti, former finance advisor to multi-million dollars foundations who then left the finance world to dedicate his life to researching and creating new forms of investing, including founding Northern California's chapter of Slow Money.  Explore his work and video materials at Essential Knowledge for Transition. The video is a TED-Santa Cruz talk from 2014.
~~~~~~~~~~~~~~~~~~~~~~~~~~~~~~~~~~~~~~~~~~~~~~~~~~~~~~
"Creating Local Wealth" by Michael Shuman
The following talk by Michael Shuman was presented as the kickoff event of Vermont's New Economy Week 2013. It explores various ways that communities can invest locally and create wealth and resilience. Michael Shuman is one of the leading experts on community economics. He is the author of numerous books, including Local Dollars, Local Sense:  How to Move Your Money from Wall Street to Main Street and Achieve Real Prosperity and The Small-Mart Revolution: How Local Businesses Are Beating the Global Competition.
~~~~~~~~~~~~~~~~~~~~~~~~~~~~~~~~~~~~~~~~~~~~~~~~~~~~~
Vermont Dollars, Vermont Sense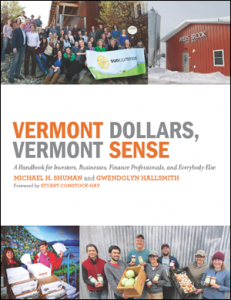 Vermont Dollars, Vermont Sense, by Michael Shuman and Gwendolyn Hallsmith profiles 28 local investment tools for grassroots investors, businesses, finance professionals, and others-with examples of how these ideas are being realized today in Vermont, the state with the strongest local economy movement in the country. Download a free copy from the Publisher website at Post Carbon Institute.
Extracting Fossil Fuels from your Portfolio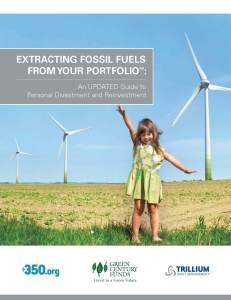 An Updated Guide to Personal Divestment and Reinvestment by 350.0rg, Green Century Investments, and Trillium Asset Management. Free download.
Regenerative Capitalism, How Universal Principles and Patterns will Shape Our Economy by John Fullerton Founder and President of the Capital Institute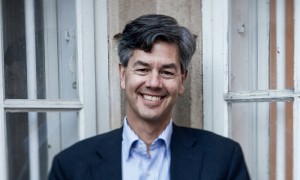 "When I resigned from JPMorgan in the spring of 2001 after a nearly 20-year career, I didn't know what would come next. What I did know was that I no longer recognized the Morgan culture I had once cherished. Furthermore, I had become restless, feeling my career had lost any purpose beyond achieving "success" as defined by Wall Street and my Morgan bosses. […]
What followed was years of searching. I was searching for how to make sense of a world that I could no longer explain to my children. At some level, I was also searching for my own purpose in it all.
This search first opened my eyes to the profound, interlocking crises we are now facing – ecological, economic, and social – including the shocking prospect that we are destroying the planet's ability to support life as we know it. My most startling discovery, however, was that the modern scheme of economics and finance – what Wall Street "geniuses" (like me) practiced so well – formed the root cause of these systemic crises…"
---
 Vermont Organizations Working on Investments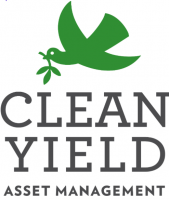 Clean Yield is an investment advisory firm working exclusively with social investors. Since our founding in 1984, our goal has been to invest to promote a sustainable society while achieving competitive financial returns.

Slow Money Vermont is an emerging network that aims to inform, inspire and connect individuals, businesses, philanthropists, and investors interested in building a sustainable local and regional food system and to catalyze new investment opportunities in the people, businesses and communities that contribute to a sustainable food economy.
For more info on the Vermont Food Investors Network (a project of Slow Money VT) contact: vtfoodinvestor@gmail.com

VCLF is a mission-driven, community-focused alternative lender. We make loans to local businesses, community organizations & nonprofits, child care providers and developers of affordable housing who don't qualify for a loan from a traditional lender.

Milk Money is where Vermonters discover local investment opportunities, get tips on how to evaluate those opportunities, and then make an investment. We feature companies that are already in business with some proven track record.
 ~~~~~~~~~~~~~~~~~~~~~~~~~~~~~~~~~~~~~~~~~
Books
There are lots of great titles out there about investing locally and the bigger picture of why we need a new economy. Some of our favorites are:

Creating Wealth by Gwendolyn Hallsmith & Bernard Lietaer, on Growing Local Economies with Local Currencies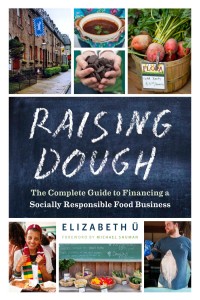 Raising Dough, by Elizabeth U, a guide on how to finance a socially responsible food business

Agenda for a New Economy by David Korten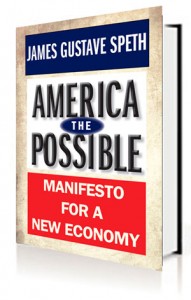 America the Possible: Manifesto for a New Economy by James Gustav Speth
Also read an essay version in Orion Magazine HERE

Greening Vermont: The Search for a Sustainable State by Elizabeth Courtney and Erik Zencey
~~~~~~~~~~~~~~~~~~~~~~~~~~~~~~~~~~~~~~~~~~~~
National Organizations Working on the New Economy
Stronger, more sustainable economies are being built across the country and the world by the hard work of many dedicated individuals, communities, and organizations. Some of these groups doing important work to further sustainable economies include:
The Center for a New American Dream