Q: What do an Oklahoma farmer, a polar bear, and a Wall Street banker have in common?
A: Climate disruption affects each of them. And it affects everyone else, too.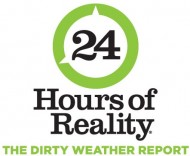 Today, we're all experiencing the negative effects of a changing climate. Rising pollution, rising consumption, and rising dependence on dirty energy sources have changed Earth's atmosphere and changed our weather. Droughts, storms, wildfire, floods–2012 has been a year of extreme weather like never before. But, unless we do something to stop man-made climate change, this extreme weather will become the new norm.
Today, you can join the Climate Reality Project in the fight against dirty energy and an extreme weather future. Tune in to their 24 Hours of Reality live broadcast for 24 straight hours of climate news, stories, and ideas from every region of the globe–and add your own. Every hour of the broadcast will be different, with experts, musicians, comedians, and everyday people all sharing about the impacts of climate change on their lives and homes. Former Vice President Al Gore will even be presenting in the final hour.
Together, we can and must solve the climate crisis. Join 24 Hours of Reality to demand action and get involved!
The 24 Hours live video event will start tonight at 8pm Eastern Time. Watch it right here from your computer!
For more information on the Climate Reality Project and 24 Hours of Reality, visit the event website.