The Institute's Hothouse last week put into sharp focus our goal of embedding values into business and business into values.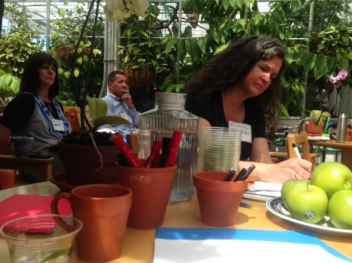 Our intention was to deliver actionable advice and an experience in real time of how to apply it. Put simply, the event included these steps:
Research – research your system and see what's actually needed, who your clients are, and what your internal and external capacity is currently to actualize a viable product/service.
Design – design your product/service and stress test it with peers/clients/stakeholders.
Implement – implement your strategies and project plans based on a clear understanding of prioritized steps, starting with "low hanging fruit" and building traction from there.
Feedback/Action Learning – step back and assess your current status, adapt accordingly, and redesign. Implement accordingly.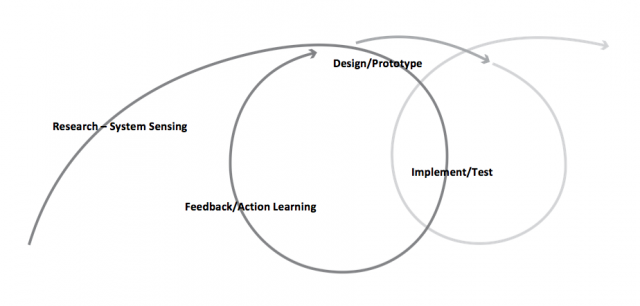 Gregg Fairbrothers of Tuck School of Business at Dartmouth had a poignant saying: "Good ideas are often missed because they show up in coveralls and boots, and look like work."
Our first step was bringing on board faculty who had actual proven track records in getting it done, we were fortunate to have with us Gregg Fairbrothers and Dan Walsh. Our diverse group of participants had in common the goal of refining their mission and operationalizing action steps. The Murdough Greenhouses at Dartmouth provided a venue steeped in the most resilient examples of the evolutionary gauntlet.
What is clear from all long-term successes, be they in the organizational world or in nature, is that resiliency requires effort and the ability to adapt to changing conditions. Metrics are not an accessory. As we discovered in the greenhouses, plant species survive only when they successfully measure and operationalize strategies that ensure adaptive response over time to changes in their environment. Pretty orchids or carnivorous plants are tenacious examples of operationalizing adaptive strategies to system conditions and change. As my Finnish Friends at Team Academy say "Change or Die."

What is not changeable is the process described above. To that end we distilled the fundamental steps that are non-negotiables for any initiative gaining traction and staying resilient, and we took participants through the entire process on the day.
Content, strategies based on conditions, or stakeholders may change, but limits for capacity at any level–be it your own need for sleep or the finite nature of a resource you require–do not. British Petroleum expressed this elegantly when they changed their market identity to "Beyond Petroleum." We are currently in the midst of a planetary renaissance (you know–how do you cure the black plague when you don't know what bacteria are…). We have been here before. The imperative for business and communities alike is to understand not only how our values for each other, where we live, and what is possible are encountering systemic limits, but also to creatively adapt in real time to surface new ways of expressing those values through our business to ensure we have the means at the end of the day to continue indefinitely…to BE resilient.
What your challenge is in your organization or community may be different depending on where you are, who is involved, and how that influences your imperative (water issues in Vermont look a lot different then Texas)… The Hothouse is our own first version of how to answer the question–
"What is universally useful to those who are brave enough to lead, and aware enough to do this on behalf of us all?"
We are open-sourcing the workbook and preparatory questions in addition to a resource list. Refinements are already underway and your feedback is welcome. In addition we are listing resources from faculty and examples of how businesses/communities are applying the 3.8 billion years of R&D nature offers to great effect. Thank you to the Biomimicry Institute for the cutting edge work here!
We want to extend particular thanks to our two visiting Faculty in this event, Gregg Fairbrothers and Dan Walsh.  They were incredibly generous with their time, tools, and attention. In addition, both Kim and Terry, the staff at the Murdough Greenhouses, worked tirelessly to connect what the greenhouse had to offer by way of example to the intention of our program. Thank you all!
If you are an organization or network wanting to build traction on your mission, please contact us at info@donellameadows.org.
Blog post #2 about how the Hothouse relates to our Institute's larger mission will be up soon, so keep your eyes open for it!