By Alan AtKisson
Alternatives and Complements to GDP-Measured Growth as a Framing Concept for Social Progress
2012 Annual Survey Report of the Institute for Studies in Happiness, Economy, and Society — ISHES (Tokyo, Japan)
Table of Contents
Dedication
This report is dedicated to the memory of Donella H."Dana" Meadows (1941-2001), lead author of The Limits to Growth and a pioneering thinker in the area of sustainable development  and ecological economics. Dana, throughout  her  life, managed not  only to communicate   a different way of thinking about economic  growth  and  well-being, but  also  to demonstrate how to live a happy and satisfying life as well.
Preface
"Life Beyond Growth" began as a report commissioned by the Institute for  Studies in Happiness, Economy, and Society (ISHES), based in Tokyo, Japan. The initial assignment came at a time (early 2011) when Japan was wrestling with serious economic challenges, including a decade of stagnant economic  growth, an aging demographic, rising unemployment, and an industrial base increasingly dependent on the overconsumption of imported resources. These unsustainable economic  trends created  a compelling  basis for a shift in emphasis from traditional industrial growth-based planning toward a new vision of social progress  based in personal and social happiness and well-being. From the standpoint of early 2011, it seemed  possible that  Japan, among other  countries, was on the brink of "switching" from being a growth-centered society, to being a well-being-centered society.
The first draft of this report  was completed  in time for the launch of ISHES, held in Tokyo on 4 March, 2010. (Attendees  included a  number  of government and industry representatives, including an  official responsible  for  developing Japan's economic growth strategy.) The  purpose of the report, at that time, was to provide a quick survey of the state of the field for  the new Institute, as an input to its strategic planning and programming.
I was honored to provide  a keynote  presentation for the ISHES launch event, and an initial summary of findings formed  the  core  of my opening presentation  for  that  event, under  the  title "37 Questions about Happiness, Economy, and Society… and One  Statement."  The "statement" was a  quotation by John Maynard Keynes, from his essay on Economic Possibilities for our Grandchildren (1930), about the coming economy  of  leisure.1 The  emphasis on questions — 37 of them! — underscored that  the  important  issues being explored  by ISHES were  very much open-ended, under examination, and far from resolved.
One week later, on 11 March 2011, the depth and breadth of those unresolved questions expanded enormously. In the series of events known in Japan as the Tõhoku earthquake and tsunami, or more colloquially as "3-11", Japan  suffered  its  worst natural disaster in modern history, compounded by the world's worst nuclear disaster since Chernobyl. As of early 2012, Japan was still recovering from the combined effects of the earthquake, tsunami, and destruction  of three  nuclear reactors, which claimed approximately 20,000 lives. the full social and economic impact of these events will not fully be known for many years. There is no doubt that the events of 3-11 have already transformed Japanese society. To a significant degree, they have changed the rest of the world as well, especially as concerns the future of nuclear power.
The enormity of these events, combined with the devastating losses suffered by the Japanese people in terms of lives, livelihoods, and national economic prospects, obviously had a profound impact on the writing of this report. While the facts have  not changed  regarding  what is happening  globally  in the area of new approaches to economic growth and its alternatives, the context around those facts shifted dramatically during 2011 — and not only in Japan. The year 2011will be recorded  in history as a year of momentous changes in many parts of the world, from the upheavals in the Arab countries, to the droughts and famines of Africa, to financial turmoil in both the Eurozone and the Dollarzone.
These changes  in the world both delayed  and caused  significant changes  in  the  approach  of this report,  as well as reconsiderations  about its purpose and central message. In a  world where people are suffering the terrible effects of disaster, compounded by  painful declines in  economic security and/or the loss of their economic livelihoods, it would be difficult,  if not ethically inappropriate, to  argue against economic growth in a categorical way. In recovering from earthquake, or avoiding famine, or placing a state's finances on a stable platform, economic growth – of a specific kind – is seen as an absolute necessity.
But what kind of "growth" is necessary?
This question provides a bridge to the original purpose of this report:   to  survey the current "state of the art" regarding  the possibilities for Japan  – or  any country  – to  create  an economy of well-being  rather than an economy   based on unending economic growth. On a finite planet, where all life (including human life) is dependent on  finely tuned  ecosystems, unending physical growth  is categorically impossible. However,  the quest for  human development, happiness, and well- being presents limitless possibilities.
Happiness and well-being, after a century of being excluded from  serious consideration by  the mainstream of economics, have emerged in recent years  as serious  topics of economic  debate and policy innovation in diverse countries  and across the spectrum of ideological opinion. It is hoped that this report will help to accelerate further change in this regard.
In light of the events of 2011, of course, accelerating a sustainable social and economic recovery, in Japan and elsewhere, is now also part of the aim of this compendium of ideas and policy alternatives.
The information in these pages has been gleaned from around  the  world, and the  ideas reported on here are the result of decades of thinking and experimentation, by many people in many cultures. While  the  experiments  are  still in progress,  it is already  possible  to see  a new framework for economic goal-setting emerging, one that has the potential to  reconcile the need for  economic growth (where it is truly needed), the desire for human happiness and well-being,and the boundaries of what the planet can sustain. As such, the vision offered at the conclusion of "Life Beyond Growth" offers the possibility that we might find, together, a realistic path forward to a sustainable future, not just for Japan, but for the world as a whole.
Structure of the Report
"Life Beyond Growth" is intended to be an annual publication that will update decision makers and members of the general public on the status of the current debate, as well as policy shifts, related to  the issue of economic growth, happiness, and well-being.
For this first edition, however, we provide a more detailed historical  background. The report begins with  an  overview of  the rise of  the "growth paradigm" in modern industrial times, as well as the more recent rise of challenges to that paradigm. We gather all of these challenges, new frameworks, and alternatives to the dominant growth paradigm under the overall heading of "New Economics."
Following that  historical review, the  report provides, in guidebook format, a current summary of the specific frameworks, concepts, and methodologies – one is tempted  to call them "brands" – under which New Economic thinking is most prominently promoted. It also describes the indicators  (measuring systems) that help to make those frameworks  tangible as well as policy- relevant. In some  cases, the  framework  and the indicator are essentially identical – that is, the new indicator defines a new economic framework, and vice versa.
The final chapters provide a more speculative look ahead, including thoughts about how geopolitical factors  are  likely to  influence the  development of these ideas in the near term, and how the disparate  streams of  alternatives  to  traditional economic growth are likely to sort themselves out into a  more coherent river of ideas for change. The last chapter also includes a reflection on the ethics of growth and happiness, and a proposal for an integrative framework  that marries the recent trends in "Green Economic" thinking with the rise of "National Happiness"  indicators worldwide. This marriage  of concepts  has the potential to provide the world with a clear vision of what must be achieved in the coming decades, as well as some sense of how to get there.
The world's choices about how it pursues economic well-being are, at bottom, ethical choices. Indeed, one of these choices has to do with how we view choice itself:  Are we encoded by our biology to  always want growth, thus rendering "New Economics"  a kind of evolutionary  sideshow? Or can we choose how we relate to the essential business of "making a living" on this small planet, which we share with so many other living things?
Is there  "Life  Beyond Growth"? In the  end, this question cannot be answered, definitively, except perhaps by trial and error.This report is offered in the hope that our attempts to find the answers will lead to a satisfying life for all, on a vital and diverse planet, and that we can avoid as many errors  as possible along the way.
Acknowledgements
While I serve as lead author, this report  would not have  been possible  without the excellent work of  two  excellent writers/researchers  recruited for  this project, Hal Kane of San Francisco, and Catherine  Kesy of Luxembourg. Diana Wright of Vermont  also provided invaluable editorial input.
Together we pored over the contemporary literature on the limits to growth, the limitations of economic measurements, current alternatives to "growth" as a proxy for overall social progress, and the emerging art and science (for it is very much supported  by science) of happiness economics, among other  topics. We  adopted the "less is more" approach to the report itself: our goal was to provide an easy-to-read, engaging introduction to these topics, and a portal into further reading and web surfing into this rich and diverse family of concepts, frameworks, and measurements.
To Junko Edahiro and ISHES, we express our thanks for this wonderful assignment.We offer our apologies for any lacks, flaws in design, or errors  it may contain. And we hold out our highest hopes for the success and impact of Institute for Studies in Happiness, Economy, and Society.
And finally, to the people of Japan, we extend our great hopes for continued recovery from  the terrible events of March 2011, and for a brighter, more sustainable, and happier future.
– Alan AtKisson
Stockholm, Sweden
31 January 2012
A Note on Sources and References
This report draws on a wide variety of scholarly books and articles, policy documents, news reports, organizational websites, and online encyclopedias, as well as many hours of participation in conferences and seminars on topics related to economic growth and its alternatives. Often an observation or reflection noted herein is actually a synthesis, drawing on several such sources. In the age of the Internet, it makes little sense to catalog each and every source when most facts can more efficiently be checked (using multiple sources) by a quick web search. Moreover, since I have been working in this field for  over  two  decades, it is sometimes difficult to identify, or even remember, the exact relevant source  for a reflection that is the product of years of observation.
Instead, I have opted  to focus our cataloguing of references on those sources that are very specific, that  are current  "key sources" in this field, and/or that would not otherwise be easy to identify or to find. For example, we do not list references to explain the origin of the word "Anthropocene" in the opening paragraph of the first chapter, for while this term may not familiar to all readers, it is easy to find key references via the Internet. On the  other hand, when the  report  is drawing on specialist publications, very recent  news articles, presentations at recent conferences, or  personal communications with experts, we have endeavored diligently to catalogue these sources.
A. A.
Introduction
Can humanity as a whole be happy and satisfied without destroying the natural systems on which we depend? This question began to  haunt the minds of researchers towards the end of the 20th century. Now, in the 21st century, it has become the most urgent question of our age.
Scientists increasingly refer to this period of time as the "Anthropocene," by which they mean the time in Earth's long history that is primarily defined by the human presence on the Earth, and its impact on climatic, biological, and even geological systems. Our  numbers  have swelled  from one billion in the year 1800 to six billion in the year 1999, and are expected to reach nine billion by 2050. Our agriculture, energy plants, cities, cars, airplanes, dams, fishing fleets, and many other  technologies —  combined  with  our  enormous  numbers — have changed  the face of the planet. Our effect on  Earth's ecosystems  is equivalent in scale to the coming of an ice age, or the impact of a large asteroid, and it is expected now that we will leave our imprint in the fossil record for eons to come. No matter how it all turns out for us in this and coming generations, geologists millions of years in the future (if there are geologists then) will be able to see our fingerprints on this period of history, etched into the layers of rock.
The question is, what will they see? A complete catastrophe,  marked  by an enormous  die-off of species, the exhaustion of resources, and pollution so  widespread and  toxic  that  even  human numbers dwindle rapidly? Or will they see a "near- miss," a moment of danger, where  global-scale catastrophe is contained just in time, and recovery and restoration  begin in earnest — turning Earth's future  from "human wasteland" to "planetary garden"?
The  answer to these  question  hinges  on  the answer to one more question: Will humanity manage to transform  its economies, to convert them from destructive forces to sustainable and indeed restorative processes, in time?
Notice the word "economies": while we often refer to a single "global economy," the truth of the matter is that human civilization is comprised of a complex   network of many different economic systems. Some of them are still free-standing, essentially subsistence economies, where  people farm or  hunt  and live  off what is around  them, with relatively  little interaction with global-scale processes. But even indigenous tribes living deep in the Amazon are increasingly tied into the world's larger network of economic transactions, clustered (at least for reporting purposes) into nation states, and woven tightly together  by trade, technology, and  currency  exchange. Still, as  we  begin this exploration of emerging alternatives to "economic growth" as we know it, it is important to bear in mind that "the global economy"  is not a monolith. The  process  of  using resources,  creating  value, and meeting  human needs and aspirations looks very different from one place to  another. Japan's economy is very different from that of China, the United States, Brazil or Bhutan.
One thing that all of the world's larger economic systems have in common is an absolute dependence on growth.We will explore the concept of growth in a more nuanced way later, but for now, we can simply acknowledge that the economic  success of essentially every country  in the world is measured by  how  quickly that  country's  consumption  of resources, production of goods and services, and resulting money flow is expanding. Fast growth is better than slow growth; no growth is bad; and "negative growth" (also known as "recession," or shrinkage) is considered seriously catastrophic if it continues for more than a few months.
But if growth, in national economic terms, is always the goal, and if more growth is better than less growth, what does the future hold in store? It is very difficult to deny that we live on a planet of limited size and capacity. The Earth once seemed boundless to us; now, we jet from one side to the other in half a day. Researchers  debate  how many decades (not how many centuries)  of oil are left to fuel the jets. Supplies of metals, fish, even fresh water  are running low. And most worryingly, the waste and garbage  from our activities continue to build up, sometimes in disturbingly visible ways (such  as the enormous  gyre of plastic waste in the middle of the Pacific Ocean), and sometimes in ways that are all the more dangerous for being invisible (such as the buildup of greenhouse gases in our delicately balanced atmosphere).
Under such conditions, to believe that growth as usual can continue indefinitely is not just ridiculous; it is delusory. Economies do get more efficient over time, and innovation does  provide substitutes for some resources when they run out or get expensively scarce. But at some point, there is nothing left to substitute, no more efficiencies to capture, and too few resources to meet the needs. If growth has not stopped well before that point, and if our economies  have not  changed and matured into systems that do not require continuous physical expansion in consumption and production of finite materials and non-renewable energy, then a collapse is inevitable.
To achieve a sustainable, collapse-free future, it is not sufficient to talk about changing "the global economy"; we must change many different economies, all around the globe. For this reason, it is encouraging  to see how many alternatives to the growth paradigm  have emerged  around the world in recent years. This diversity runs counter to the myth that only growth is good, much less that growth can continue  forever. Countries like Bhutan talk consistently  about "Gross National Happiness" (a phrase that has echoed around the world) and even measure happiness in sophisticated ways, while researchers  in Austria — to pick just one example — have recently measured the "subjective well-being," "quality of life," and "time- prosperity" of that country's population.2 Phrases like "Genuine Progress," "Sustainable Society," and even "De-Growth" appear more and more often in serious discussions of policy.
The change in the level of mainstream acceptance around these terms has  come with astonishing speed.Prior to the year 2010,the idea that a concept like  "happiness" would  start  competing with "growth" as a principal  goal of national economic policy would have  been laughable.  It  certainly remains controversial. But it is no longer marginal. A growing number  of senior  political, business, and institutional  leaders have now acknowledged that  economic growth, as we currently  define it and measure it, is not the only important measure of human welfare. Pronouncements  on this topic by people such as the UK Prime Minister David Cameron, French president Nicholas Sarkozy, and the leadership of China's Communist Party have all generated global headlines in the last year alone. And in early 2012, the UN's High-Level Panel on Global  Sustainability —  chaired  by  Presidents Zuma of South Africa and Halonen of Finland — noted the need for "The international community [to] measure development beyond gross domestic product (GDP) and develop a  new sustainable development index or set of indicators."
To understand  where this sudden, contemporary surge in alternatives to growth is coming from, it is important  to understand something about how growth became such a dominant  paradigm  in the first place. This report  summarizes some  of the key factors that have supported  the dominance of "growth" in global history, while also providing a briefing on some of the contemporary  political factors and technical initiatives  that have led to this moment of sea change  in public thinking on growth, happiness, and human well-being.
"Life Beyond Growth"  also provides summary information on specific alternative indicators and policy initiatives — some of them many years in development — that have recently become more visible. Whether or  not  these alternatives  will spread more broadly and take root more deeply is difficult to predict; probably most of them will not. In this respect, the report provides a "snapshot" of a global intellectual and political movement, one that is gathering steam, but being expressed in different ways in different parts of the world. It is difficult to summarize this movement in a conclusive way, because it is so diverse and changing so rapidly, almost from week to week. "Life Beyond Growth 2013" is likely to present  a very different picture of this complex present reality.
In the end, regardless of which ideas and frameworks win out, we must find our way to a future where everyone, in every country, has the opportunity to experience quality of life, happiness, and well-being  while living within the boundaries of what our planet  can physically sustain. This is the central motivation behind this annual report on "Life Beyond Growth."
The Rise of a Movement
Why did the interest among  governments  and public thought-leaders in these previously marginal questions about growth and happiness arise in the first place?
There appear to be at least three principal reasons: one is political in nature, one is more scientific and empirical in its origins, and the third is ethical.
Politically, the  leaders who have recently spoken out in favor of new measures of happiness have done so in the context of reduced expectations for traditional economic growth, as measured by the Gross Domestic Product (GDP). Prime Minister David Cameron  of the  UK, President  Nicolas Sarkozy of France, and the  Chinese Communist Party have  in common that they preside over countries  whose economies  — for differing reasons  — cannot  provide  previously promised and expected  levels of growth in GDP terms. As the Secretary-General of the OECD, Angel Gurría, said in a very recent speech on this topic, "growth 'as usual' is not an option."3 Measures of happiness and well-being provide these leaders with a viable alternative for  demonstrating  their  success   as leaders in providing for the welfare of their citizens.
These political calculations also have a basis, however, in emerging empirical analyses of the economic, social, and  ecological realities of the 21st Century.  Leaders  of  all kinds increasingly understand the complex  challenges we face  as a world, in areas ranging from global climate change, to  environmental decline, to  local conflicts over increasingly scarce resources. Faced with an ever- growing mountain of relevant scientific facts and trends, many leaders  are  realizing that "Growth as Usual" — a term  we  will adopt  throughout this report   — is no longer viable as a long-term, overarching societal objective.  Their  interest in finding alternatives  has been  matched  by an upsurge in robust, scientifically based approaches to  defining and measuring alternatives that previously seemed too vague or too difficult.
And finally, growth — as an over-arching paradigm and ultimate social goal — has been the subject of continuous  critique by ethically-minded thinkers for  decades. Their  championing of other  values, such as equity, altruism, and a less materialistic way of life, has always found adherents  at the margins of modern  industrial societies. Now, it appears, their philosophical arguments have found common cause with the political needs of national leaders, as  well as  the empirical  and analytical  tools of contemporary research. In the rise of democracy- based protest movements now emerging around the world, they may also have found a new, popular voice.
But What is "Growth"?
"Growth" is, of course, a word with many possible interpretations. In  the  political and economic context of our time, and especially in the common language  of political speeches  and newspaper articles, the word "growth" is a blend of at least four different concepts:
The expansion of humanity's physical presence on the Earth (the size of our cities, farms, and industrial areas);
Increased   production and consumption of goods and services (the output of our factories and offices);
Increased monetized activity in our economies (the flow of currency between buyers and sellers); and
General technical and industrial progress (the increased sophistication of our technologies and their increased diffusion and adoption).
We  will  offer more  precise definitions later, but even in the common, conflated, and somewhat confusing sense of the word  as described above, people are increasingly realizing  that that Planet Earth cannot sustain endless "growth" — at least, as we have been practicing it up to now.
The search for alternatives to Growth as Usual has led quickly to  concepts  of human happiness and well-being. Philosophically, the world appears to be on the verge of a collective "aha!" moment about the meaning of economic activity, perhaps even a collective  realization about the meaning of life itself: that the purpose of all our striving is not to increase the quantity of stuff and money in our lives, but to improve our quality of life.
The most compelling and publicly visible evidence of this "collective  aha" can be found in the recent actions  and  public  pronouncements by  the leadership  of  the three diverse nations noted earlier, China, the  United  Kingdom, and France. All three  nations have moved seriously, and very publicly, to  begin measuring the  happiness and well-being of people, and they claim that they will reduce the dominance of economic growth goals in policy making. They are not the only nations doing so; but their actions have been particularly noteworthy for the amount of media attention they have received.
From Bhutan to Britain
The policies of these countries have been influenced, indirectly if  not formally, by the pioneering work of the  tiny mountain kingdom of Bhutan, whose notion of "Gross National Happiness"   has long generated interest and headlines around the world. Bhutan's efforts to measure human happiness and well-being  as the principal scorecard for national success have also inspired or  influenced similar headline-making initiatives at all levels, from towns and cities in the United States (such as Seattle), to state-level governments in India (such as Assam), to international collaborations like the Organization for Economic Co-operation  and Development, better known as the OECD.
These  top-down,  governmental  policy initiatives are mirrored by a growing  number  of bottom-up grassroots  and intellectual movements, including the "happiness movement," the "downshifting movement"  (reflecting  people  who  choose  to work and earn less  in exchange for more time and higher quality of life), and the "de-growth" movement (a largely academic discussion on how to restructure national economies in ways that are not dependent on growth).4However, this is not  to  say that the world is on the verge of turning its back on economic growth, or  embracing   a  future of "simple living" and consumption reduction. Far from it:  traditional economic  growth  remains essential to   the achievement of the United Nations' Millennium Development  Goals; it  continues  to  frame the national  policies of nearly all nations; and even the "pioneer" nations mentioned above (including Bhutan) are also resolute in their efforts to maintain steadily increasing Gross Domestic Products.
What  is  different about this  moment is  not its revolutionary nature, but its evolutionary character.   After thousands  of years of steadily increasing growth, topped  by an extraordinary "growth spurt"  as a species in recent  history, it seems possible that the human species is realizing that  it  will soon  be "all grown  up," at  least  in physical terms. Like any human teenager, our physical growth as a species  must soon come to a stop, to be replaced by a focus on the long-term development of our knowledge, skill, and wisdom.
In part, the purpose  of this report  is to  tell the story of how the world arrived at this moment. In part, it provides a summation of the current "state of the art" when it comes to rethinking economic growth in favor of other goals and other scorecards. And in part, it attempts  to provide some insights and guidance  for  those who are interested in helping this transition from an old worldview to another, broader, and more sustainable worldview to continue, and to accelerate.
Happiness, Money, and Economic Growth
It is said that money, the measuring stick for economic growth, cannot buy happiness. But many studies reveal that, in fact, money can buy happiness — up to a point. Measurements of people's happiness and general satisfaction with life tend to rise as their monetary incomes rise, across  all cultures, until those  incomes reach a certain level. After that certain level of income  is reached — and it has been variously calculated as somewhere between USD 15,000 and 75,000 per person, depending on  what country  you live  in, and on how you frame the research — happiness ceases to rise.
In simple terms, the growth of your nation's GDP will lift your nation up to a strong and stable level of happiness, up to somewhere around USD 15,000 per person. After  that,  GDP  growth  is  buying many things; but additional  happiness is probably not among them. This is often called "Easterlin's Paradox," after economist Richard Easterlin, who first studied the phenomenon in detail in the late 1970s.9 The "paradox" is that we continue to pursue monetized economic growth in the belief that  it increases happiness, when research shows that it does not. Easterlin's early work has since been extended  by many other  researchers, including (most prominently) Bruno Frey, Richard Layard, Daniel Kahneman, and Ruut Veenhoven.10 Researchers tend to disagree on the question of whether the increase in happiness stops after reaching the USD 15,000 level (Easterlin's view), or whether it simply slows down a lot (as Kahneman's and Veenhoven's work seems to show).11
One  can conclude that  growing the level of monetized economic activity is not unimportant in efforts to improve human welfare. Indeed, it remains  essential; but only, says the research, in those cases where nations are experiencing incomes significantly below USD 15,000 per person (in GDP terms). After that, it is unclear exactly what purpose — in terms of improving human happiness and satisfaction with life — economic growth serves.
Because economic growth, as currently practiced, is coming at such a great  cost to the Earth (and often to human  health as well) without returning any measurable increase in human happiness, the question of growth and happiness has become one of the most essential issues of our times. What is an "economy  of happiness"? How do we achieve it? Is it the same  as a "zero growth" or "steady state" economy? Or does it depend on new forms of "green growth"? Is there room for "de-growth" without inadvertently triggering some dramatic reduction in happiness?
These are not  easy questions, but in these early decades of the 21st Century, the world appears to be grappling with them, more and more seriously. We now turn to the essential history behind these questions as well as the ideas, measurements, and analyses that frame much of the current debate about the relationship between growth and happiness.
In the next chapter we will consider some of these diverse contemporary expressions of the New Economics, in the form of different frameworks or "brands." Each brand of New Economics profiled here has achieved some level of mainstream acceptance, and each generally has an indicator or set of indicators that help to express the brand in concrete, measurable terms.
For Green Economy, there is even less clarity or agreement on how to go about measuring progress. UNEP's published materials include a significant amount of quantitative information, but for indicators of whether an economy has succeeded in becoming "green," UNEP points readers back to the OECD — which focuses on mapping the wide array of technical options available, as noted above — or to the World Bank (see the section on "Genuine Savings" below).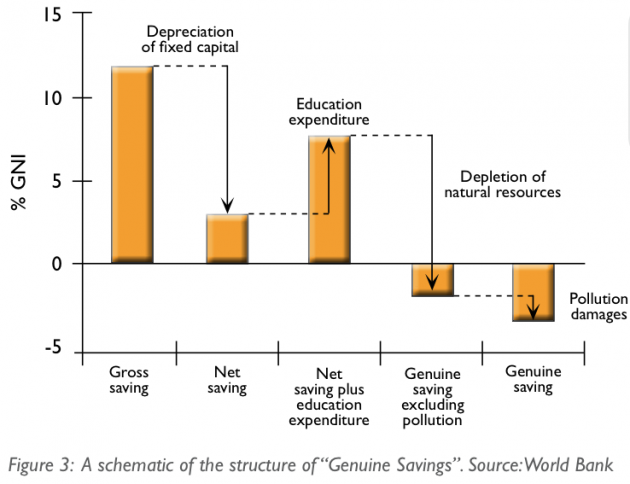 For more information:
Finally, the Green GDP is the least innovative in this related set of measures and frameworks. A Green GDP is a conventional Gross Domestic Product, adjusted for the environmental costs of the economic activities that it measures. Green GDPs have been adopted by some governments, most notably China (which produced but then suppressed Green GDP data in 2005-200737) and India (which plans to begin publishing Green GDP data in 2015). China's suppression of the Green GDP was related to the political impact that the data were expected to cause, since it showed economic growth to be far lower than a "normal" GDP would measure it to be, especially in some provinces.
While it seems counter-intuitive for governments to be focusing on measuring happiness in the midst of tough economic times, there is a perceptible political logic operating here as well. The shift to happiness and away from growth marks a "change in the scorecard" that potentially can serve the political interests of sitting governments. Delivering traditional economic growth has become demonstrably more difficult for countries like France, Germany, or Japan, with their aging demographics and declining economic power in the face of the rise of China and India. Happiness, well-being, and quality of life, as noted earlier in this report, are not strongly coupled to economic growth and income once a country has achieved a minimum  level of material economic comfort. Political leaders may be realizing that a shift of focus from GDP-measured growth to "Gross National Happiness" may help them to distract voters from these tougher economic circumstances. People's incomes may not be rising as they were before; but if it can be demonstrated to them that their happiness is unaffected — or perhaps even enhanced by the slower economic pace — then the political leadership can still claim some "measure of success."
Political considerations aside, there is no doubt that "happiness," as a potential new framework for evaluating the well-being of a nation, has become popular. It remains to be seen, however, whether other nations will also follow Bhutan in putting their new happiness indices to work as instruments of citizen consultation and policy making.42
For more information:
www.bhutanstudies.org.bt
The Center for Bhutan Studies
De-Growth
"De-Growth" is perhaps the most radical notion covered in this survey of alternatives to the paradigm of economic growth, since it means nothing less than growth's opposite: shrinkage. The "De-Growth Movement" consists largely of a  network of academic researchers and economic activists who study and promote the idea that aiming for smaller-scale economies will generate greater human well-being, while reducing the pressure on natural resources and ecosystems. The concept rose to international attention with the publication of a report,  by economist Tim Jackson, issued in March 2009 by the United Kingdom's official Sustainable Development Commission.Titled "Prosperity without Growth?," Prof. Jackson's report was remarkable in being the first such treatment of the topic issued by an official national government body. It was later republished as a book — without the question mark in the title. This book, Prosperity without Growth, has become the most widely read current introduction to De- Growth and an essential reference on the topic.
Jackson's argument can be summarized — as he summarizes it himself — in three short statements:
For more information:
http://DeGrowth.net
Portal for research, seminars, etc. on the topic of De-Growth
www.sd-commission.org.uk/publications.php?id=914
Tim Jackson's original 2009 report for the UK Sustainable Development Commission
On the right we find Growth as Usual, as measured by the Gross Domestic Product. On the left is De-Growth — one of whose primary measuring sticks is also, ironically, the GDP. (De-Growth is generally occurring when the GDP goes down, but the De-Growth concept also refers to absolute reductions in resource use and consumption.) On the top half of the graphic are the concepts that have been described here as "frameworks" — that is, integrated sets of definitions and concepts, often involving specific goals as well. Green Growth, Green Economy, Sustainable Development, and De-Growth all involve a set of assumptions about how economies should work. All are alternatives to the framework of Growth as Usual, which has its own set of core concepts and assumptions. The farther away these frameworks are from the far-right end of the spectrum, in this illustration, the more they are seen as "alternative" relative to mainstream economic opinion.
On the bottom half of the graphic are most of the indicators profiled in this report, also arranged according to their perception as "mainstream" or "alternative," relative to  economic growth. (Note that the new Index of Economic Well-Being, which is not included in the illustration, would be placed in between the Green GDP and Genuine Savings. The new Chinese GDP Quality Index would likely fall in between Genuine Savings and the Genuine Progress Indicator. These are not included in the diagram because they have not yet been adopted as policy tools.) The indicators do not line up perfectly with the frameworks above them in this illustration, because the indicators are sometimes closer, in terms of their construction, to mainstream than the frameworks with which they are most closely associated. For example, the Green GDP is essentially the normal GDP, minus certain environmental costs. Green Growth, on the other hand, involves a more proactive set of choices regarding capital investment and policy incentives, in favor of certain technologies that are seen as "greener." This active preference for different investment and policy priorities places Green Growth just a bit farther away from pure Growth as Usual thinking than the Green GDP, because Green GDP is simply a passive measure of economic performance (green or otherwise).
A key message of this illustration is that none of the frameworks or indicators profiled in this report are so far very away from Growth as Usual — with the obvious exception of De-Growth. Green Economy is arguably a bit farther away from mainstream than Green Growth, because the actors promoting Green Economy tend to give somewhat higher priority to ecosystem and human health.Sustainable Development ("SD") is pictured here as being in the middle, because it is often perceived as being farther away from traditional Growth as Usual, owing to its emphasis on social equity and the long-term conservation of natural resources (even if these benefits might come at the cost of some economic growth). In practice, however, SD plans and strategies can stretch quite comfortably from very growth-friendly policies — sometimes to an extent that makes them even more mainstream than Green Growth — all the way to somewhat anti-growth policies.
Conclusion: A Landscape  Still in Formation
This concludes our "guided tour"  through contemporary alternative, but policy-relevant, frameworks to economic growth. As noted earlier, these are separate-but-related streams of thoughts whose proponents often strive to maintain that separateness. The distance of one's preferred framework from the established mainstream of opinion (Growth as Usual) has a tendency  to create social clustering effects. Some champions of "Sustainable Development," for example, tend to regard the "Green Growth" movement with some suspicion or unease, and vice versa.
But it is also clear that all these separate steams — including De-Growth — do appear to be converging in some respects. There appears to be broad agreement, across the spectrum of these alternative frameworks, on four main points:
"Growth as Usual" is impossible in the long term. Growth may have produced many benefits to humanity (opinions differ on just how much benefit has been created), but it is also producing dangerous climatic change, ecosystem destruction, deeply problematic gaps between the rich and the poor, and other serious concerns, or even outright catastrophes. The planet is not big enough to support Growth as Usual for very much longer.
The GDP is an inadequate or even misleading indicator of progress. It needs to be at least reformed, and maybe even replaced, as the primary measuring stick by which political and social systems assess their success.
Alternatives are both necessary and possible.  The world appears to be in "search mode," looking for the best mix of traditional economic thinking (e.g. the power of markets) and New Economic thinking (such as  shifting emphasis from material consumption to non- material experience and human development).The emerging consensus is that this mix can be found; but there is no consensus yet that it has been found, in any definitive formulation.
Happiness  and  human  well-being are the essential goals of any economic framework. While this is perhaps the most radical new idea to emerge from these different streams, there does seem to be a surprising amount of consensus about the centrality of happiness and well-being, across the traditional left-right spectrum of political ideology. If this perspective takes deeper root and becomes a true organizing principle for national economic policy-making, it will prove to be revolutionary.
For at least a century,"growth for its own sake" — meaning economic growth driven by a fundamental desire to become bigger and/or more powerful as nations — has been one of the most powerful guiding principles of global civilization. If this begins now to be replaced by the principle of "growth for the sake of human happiness," complemented by the principle of knowing "how much growth is enough," we may be witnessing the birth of a true transformation in the governance of human social and economic development.
The New York Wall Street protestors, for example, call themselves "the 99%" in order to differentiate themselves from the 1% who own approximately half of the nation's wealth (in their estimation).They are essentially protesting the rise of the private sector and the weakening of state control. The protestors on the street in Syria, in sharp contrast, are concerned with concentrations of power and privilege in regime led by President Assad — that is, they are protesting the power of the state.
The combined effect of all of these geopolitical pushes and pulls on the world can be summarized as a strong tendency to continue pushing for growth — but with a good possibility for global consensus forming around  the concept  of Green  Growth. Green Growth (more so than the more multi- dimensional concept Green Economy) represents a compromise position: it may be seen as a weak step (or even a problematic  development) from the perspective of serious growth critics, but it has the potential to unite many different factions around a goal that many see as revolutionary and even transformative.
At the same time, as noted earlier, more and more nations are embracing happiness as an alternative to the fixation on GDP and Growth as Usual. However, the geopolitical realities of the world today suggest that in the near term, happiness, well-being, and similar concepts are most likely to be seen as parallel and complementary goals, and not as replacements for the growth paradigm.
The foregoing analyses lead to a summary prognosis:
In the next few years, the concept of Green Growth is likely to become a new "center of gravity" in economic policy. A consensus around new national indicators (such as the "Green GDP" or "GDP Quality Index"), representing the reform of traditional economic growth measurement, is likely to emerge as well.This new focus on Green Growth is likely to be complemented, though not replaced, by national measures of happiness and/ or well-being that are tailored to each country's cultural and historic context.
If this prognosis proves accurate, it will indeed mark a dramatic shift in the way nations practice economic policy. While not a retreat from the growth paradigm, a shift to Green Growth complemented with national happiness measures will represent  a significant broadening out  of society's overall economic agenda, and pave the way for still more social and economic innovation. This shift also opens the door to a new ethical framework for thinking about growth and well- being on a global scale. We will explore this possibility in the final chapter.
Calculating the scale of our challenge is itself a challenge; but the most recent calculations actually give cause for optimism. The 2011 UNEP Green Economy Report, for example, estimates the investment cost for "greening the global economy" as somewhere "in the range of US$ 1.50-2.59 trillion." While these are large numbers indeed, UNEP notes that this is still "less than one-tenth of the total global investment per year." As a fraction of monetized world economic activity every year (annual Gross World Product), $1.5 trillion is a mere 2%. In pure financial terms, creating a Green Economy — shifting investment flows, and changing the rules of the game so that investments in a Green Economy are rewarded — is entirely possible. The obstacles to doing so are therefore institutional, political, and cultural.
Which brings us back to the question of ethics and vision. For this is exactly the question facing the world: can we commit ourselves to growing — or more accurately, redeveloping — a global Green Economy? Can wealthy nations find ways to dramatically reduce their consumption of resources and overall impact on nature, while maintaining their monetized incomes and the vitality of their industrial and technological systems? Can poor nations grow their economies in new ways, so that their people can have access to the goods and services that will provide them the well-being they deserve, without further crushing the world's ecosystems underfoot? Can global incomes continue to increase — especially among those who cannot yet afford the elements of happiness that money can actually buy — even while the global footprint on nature begins to shrink? Can we finally and truly decouple the one from the other?
Answering these questions with a "yes" may seem impossible at the moment. We live in a world whose dominant economic systems — despite optimistic trends in areas like renewable energy and efficiency — are still utterly dependent on the expansion of fossil fuels, strip mining, the decimation of forests, exploitative labor practices, and much more besides. Growth as Usual, the ruling economic paradigm for centuries and the source of so many material benefits to humanity, is also the driving force behind so much of the misery and environmental devastation we see today as well. Growth as Usual may have finally met its first serious challengers, in the form of revolutionary concepts such as Green Growth, Green Economy, and Gross National Happiness. But Growth as Usual is hardly on the ropes yet. If there is a transformation in the making, we witnessing its very earliest days.
But this is also how transformations begin: small, hard to see, apparently insignificant.Then they start to spread, and people begin to believe that the impossible might just be possible. More and more of them join the effort to make the impossible possible. And then — seemingly all of a sudden — it is happening everywhere.
55 Bozzoli, Carlos, T. Brück, O.J.  de  Groot, "The Global Economic Costs of Conflict," unpublished working paper, 2010. Available by request of Olaf J. de Groot, DIW Berlin (www.diw.de).
Poverty Alleviation
56 Sen, Amartya, "Growth and other concerns," The Hindu, 14 February 2011.
Geopolitical Power Shifts
57 Howard French, "The Next Empire," The Atlantic Monthly, May 2010. Note  that the African Economic Outlook disagrees with this assessment and identifies India's Foreign Direct Investment as exceeding China's (africaneconomicoutlook.org).
58 Doubling growth while halving environmental impact means no net change in environmental impact. In fairness, Unilever does have relatively advanced goal-setting in this regard, relative to other global-scale companies. The point here is that this goal setting is not leading to a reduction of the negative impacts of growth in the near or medium term, and that the growth goal is aggressive. Also, the graphics displayed by Unilever (at a conference on Green Business, Istanbul, 6 October 2011) indicated an expected growth in environmental impact at first, but at a slower pace than growth in sales and revenues. This means that environmental impact would increase in the coming years, then peak, and then start to reverse. After a decade, environmental impact would have come back down to the level it started from in 2010, projects Unilever, while revenues would have doubled compared to that base year. But the graphic displayed was a rough schematic; it is impossible to know how seriously the company treats such projections.
59 World  Business Council  on  Sustainable Development, "WBCSD Business Role," Executive Brief, March 2011 (wbcsd.org)
60 Bird, Winifred, "Half-Farmer, Half-X: Ideal Lifestyle or Unfortunate Reality?," Mother Earth  News, 28  November 2010. (www.motherearthnews.com/happy-homesteader-half-farmer-half-X.aspx#ixzz1aPdNB8pp)
Rio+20 and Other International Negotiating Processes
61 Ecological Footprint website: footprintnetwork.org
62 A recent one-year effort by a Swedish family that involved living in a latest-generation energy efficient house, driving an electric vehicle, buying locally produced environmentally- friendly products etc. revealed that even under the best possible current conditions, reducing carbon footprint to a sustainable level was not yet achievable. (Source: Prof. John Holmberg, Chalmers University, presentation at the annual meeting of the Balaton Group, 9 Sept 2011.)